Skirt Steak with Potatoes and Mushrooms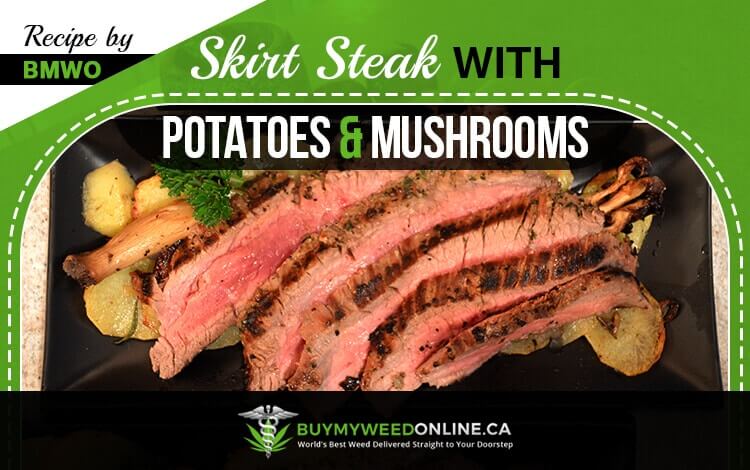 Time: 13 hours
Print Recipe
This is one of those dishes that will make you feel like an incredible chef with very little effort. Because these steaks soak up marinade amazingly well, you can marinate them, the night before cooking.
The strong, beefy flavor of skirt steak is to die for! This quick & easy-to-cook meal definitely tastes like one out of a restaurant, and is sure to become the most-demanded dish at your home.

10

garlic cloves

1

tbsp

diced onions

1

peeled and thinly sliced onion

¼

cup

red wine vinegar

1

tsp

fresh rosemary

1

tbsp

lemon juice

1

tsp

black pepper

½

tsp

salt

1

bunch of flat leaf parsley (cleaned, stems removed)

8

tbsp

extra virgin olive oil

4

thinly sliced Yukon Gold potatoes

salt and pepper, to taste

1

tbsp

minced garlic

3

tbsp

cannaoil

1

small peeled and thinly sliced onion

2

lb.

skirt steak cut into sections

1½

cups

assorted mushrooms (trumpet, clamshell, brown, nameko, forest or maitake)

stems of fresh rosemary
Combine parsley, olive oil, garlic, onion, lemon juice, rosemary, vinegar, salt & pepper in a food processor or blender. Purée.

Add steak & marinade into a resealable, plastic bag. Marinate in refrigerator overnight.

Remove from refrigerator & bring up to room temperature.

Place onion, mushrooms, garlic, potatoes & rosemary, in a large bowl. Coat with the infused oil, and sprinkle salt & pepper over them, tossing to coat.

Spread vegetables evenly on a baking sheet.

Bake vegetables in oven, about 30 - 40 min, or until potatoes become tender & golden brown. Toss gently with a spatula, making sure every side cooked.

About 10 min before the potatoes are completely cooked, prepare your grill. Grill the skirt steak for about 3 - 4 mins per side, on high heat.

When the steak is grilled, allow to cool for 5 min.

Divide the vegetable mixture onto dinner plates. Slice steak & serve over vegetables. Enjoy!