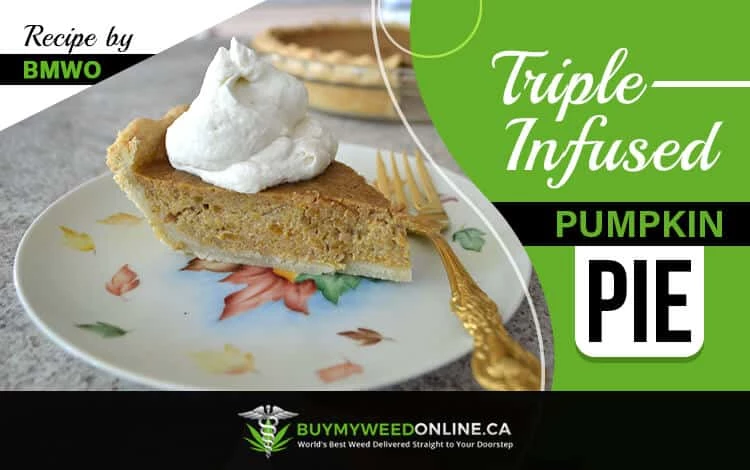 Thanksgiving is just around the corner, and I'm super excited for it! It's the best holiday with good food, loved ones, and a long weekend.
A plate of moist, stuffed turkey, smothered in delicious gravy – well, THAT'S A MEAL! And this meal deserves the perfect ending!
Finishing this meal with a canna-infused dessert is the best way to go, and my choice is a triple-infused pumpkin pie. I usually infuse it with sativa cannabis strains because I love the cerebral high.
If you want to end your Thanksgiving meal on a gorgeous note, this pumpkin pie is the right choice! Here's the recipe: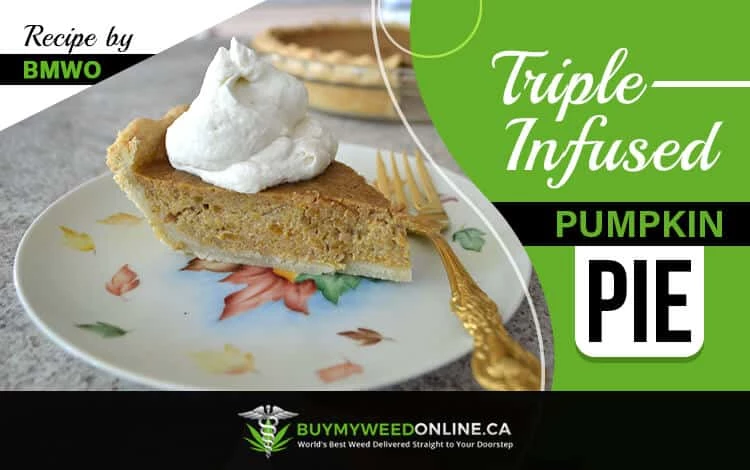 Triple-Infused Pumpkin Pie
For Crust
For Pie Filling
For Weeded Whipped Cream
To Prepare the Crust
In a food processor bowl, mix canna-butter, regular butter, flour & salt. Slowly, add ice water, and blend, until dough starts to form a ball.

Pour onto a work surface, lightly floured, and pull ball together, and flatten into a disc shape. Lightly flour dough & wrap in plastic wrap. Refrigerate for at least 30 min.

Tip: This dough can be made ahead of time, even days ahead, and left in refrigerator, until ready to use.

Prepare a pie plate, by greasing with butter or coconut oil.

On a lightly floured work surface, roll out dough to fit pie plate with a little extra around the edges.

Gently, roll dough around rolling pin, to transfer over pie plate. Carefully & gently unroll, and fit into bottom of pie plate.

Place in refrigerator, while pie filling is prepared.
To Prepare the Pie Filling
Preheat the oven at 340°F.

In a large mixing bowl, combine all ingredients & mix using a hand mixer or using a wooden spoon, until smooth.

Pour mixture into chilled pie shell. Bake for 45 - 50 min, or until filling sets.

Tip: You could use a toothpick, skewer or cake test in the center of the pie, to ensure it comes out clean.
To Prepare the Whipped Cream Topping
In a medium-sized mixing bowl, halfway whip cream, before adding other ingredients.

Add vanilla extract, icing sugar, and melted butter - cooled down, but not solid. Finish whipping, until cream foams, and doubles in volume, forming firm peaks.

Spoon whipped cream onto individual slices, as desired.
medium
Recipe Card powered by

Best Sellers
Buy My Weed Online has everything you need, from premium strains to edibles and concentrates. With unbeatable prices, our online dispensary is guaranteed to be your go-to for all of your cannabis needs.
Shop now and join the thousands of satisfied customers who have already made us their top choice.