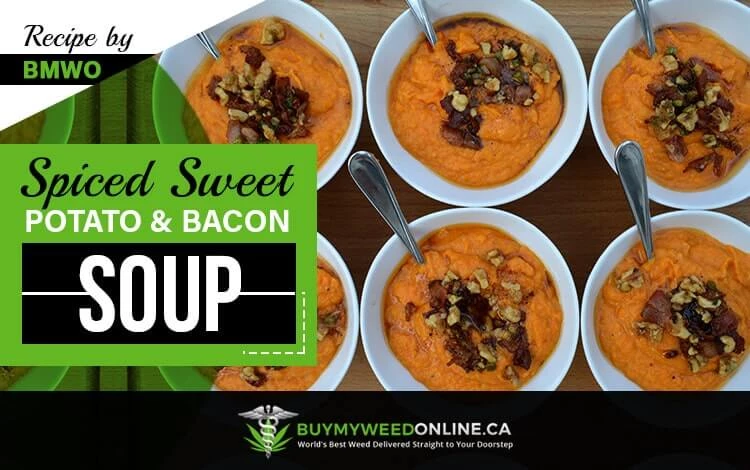 The idea of making this spiced potato soup came to me last weekend. I was dining out with a friend, and the couple sitting next to us ordered something similar with chunks of bacon and it looked delicious. I thought to myself, "Sweet potato and bacon? Yes, most definitely!"
So, the very next day, I made this velvety, smoked paprika soup with a garnish of scallions, walnuts, and some legendary, crispy bacon, glazed with cannabis-infused butter.
And I kid you not, I literally cried with joy, when I first tasted it!.
The cannabis is added in two doses – once, cooked with the vegetables, and then again, in the garnish. The best thing about the garnish dose is that you can add as much as you want, or skip it completely if you want to keep the cannabis dosage low. This soup, if ungarnished, will last up to 5 days in the refrigerator.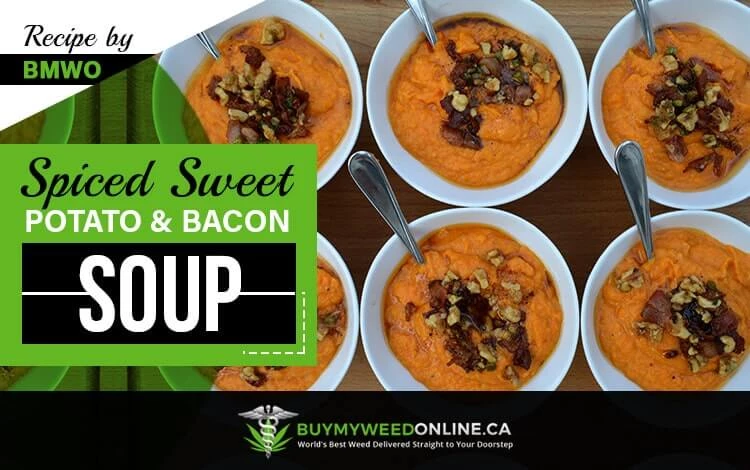 Spiced Sweet Potato and Bacon Soup
Preheat the oven at 350°F

On a baking sheet, place sweet potatoes and poke them all over, with a fork. Roast until they become tender - about 45-60 min, depending on the size of potatoes.

Let them cool down. Then peel off their skin.

Put the potatoes in a large blender or food processor, and blend until smooth.

Heat 2 tbsp. salted cannabutter in a large skillet over medium heat. Add carrot, garlic, onion, and spices and sauté until tender. Then put the mixture in the blender with half-and-half and blend until smooth.

Pour the soup in a large saucepan and warm it over low heat.

Heat the remaining cannabutter in a medium skillet over medium heat. Add bacon and sauté until desired crispness.

Add scallions and walnuts and cook for 4-5 mins until soft.

Pour the soup into 6 bowls, and top with the scallion & walnut garnish.
easy
Recipe Card powered by

Best Sellers
Buy My Weed Online has everything you need, from premium strains to edibles and concentrates. With unbeatable prices, our online dispensary is guaranteed to be your go-to for all of your cannabis needs.
Shop now and join the thousands of satisfied customers who have already made us their top choice.