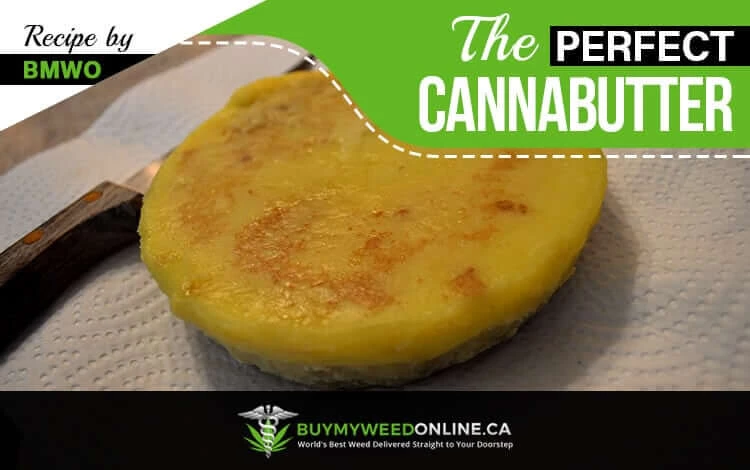 The popularity of cannabis edibles has skyrocketed in the past few years as weed lovers have decided that they can have their canna cakes and pastas whenever and wherever they want. An essential ingredient behind these tasty hash treats is cannabutter. All your favorite canna-burgers, cannabis cakes, cannabis pasta, canna-infused brownies, and other dishes are incomplete without this foundational ingredient.
I've checked a lot of cannabutter recipes over the years and what I realized is that many people prefer and therefore prepare mild cannabutter. However, as I have high tolerance to cannabis, I always prefer mine to be extremely strong. It's also because mostly when I'm eating canna-infused edibles, I want my joint pain to go away. And it's only possible with a highly potent cannabis dish.
Mostly the milder cannabutter is preferred by people who just want to relax or refresh themselves. But what I always tell these people is that you can reduce its potency in your dishes by simply using less of cannabutter and more of regular butter. But once your cannabutter is made, you can't change its potency. So it's always better to make a stronger one and then set a ratio of regular butter to cannabutter that suits your desires and tolerance level.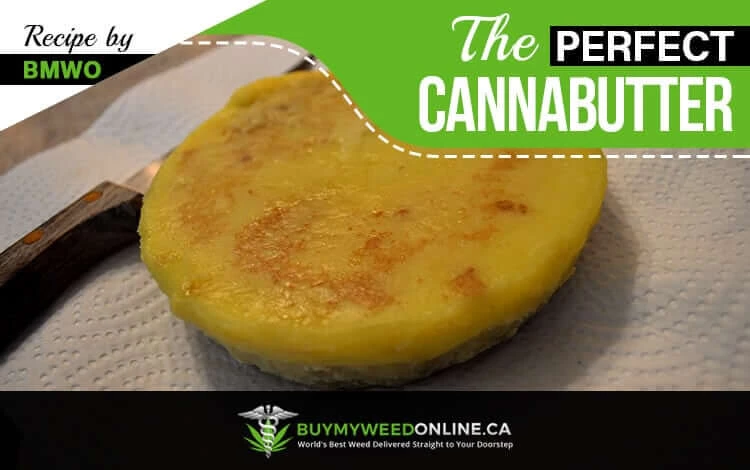 The Perfect Cannabutter Recipe
Boil a quart of water in a medium saucepan. You can set the amount yourself, just make sure that cannabis (which you will add later) is always floating about 1.5-2 inches above the bottom of the pan.

When the water starts boiling, add the butter in the saucepan and let it melt completely.

When the butter has completely melted, add the decarbed cannabis.

Once the cannabis is added, turn down the heat to low. Let the cannabis cook for about 3 hours.

You can tell that it's cooked when top of the mixture turns from watery to thick and glossy.

When the cannabutter is cooking, set up the bowl to put the finished product in it. I usually use a heat-resistant bowl. However, you can also use a plastic food container. Take a cheesecloth and place a double layer of it over the top. Secure it with tape or elastic. Then strain the cannabutter over the bowl carefully. Try not to spill.

Once you emptied the saucepan in the bowl, pick the cheesecloth from the bowl and squeeze out the remaining cannabutter.

Let the cannabutter cool for an hour at room temperature. Then place it in the refrigerator until it has risen to the uppermost layer and is solid. Once this is done, it means that the THC along with other properties has attached to the butter.

Lift the butter off the bowl by running a knife around its edges.

Place the butter upside down on the work surface and remove the cooking water if any left.

Your cannabutter is ready! Enjoy!
Note
The Perfect Cannabutter by BMWO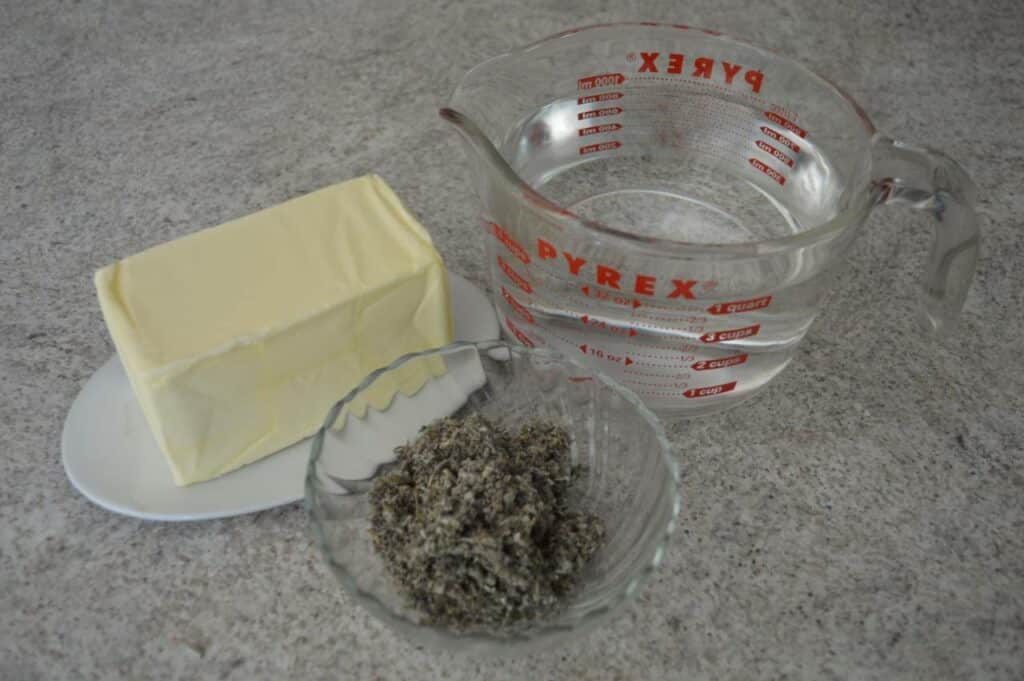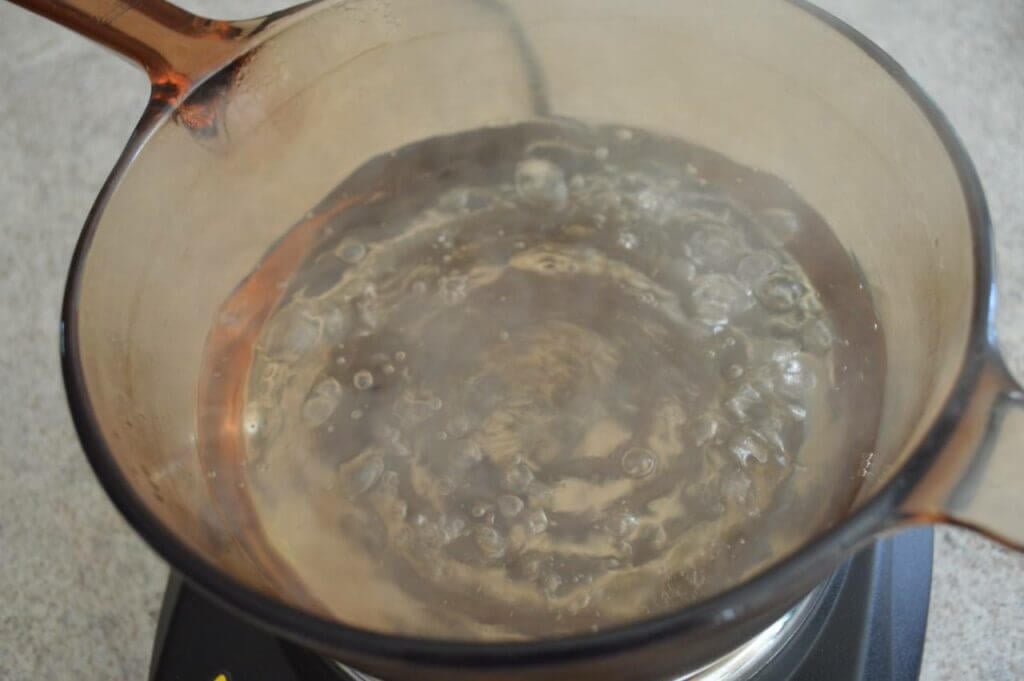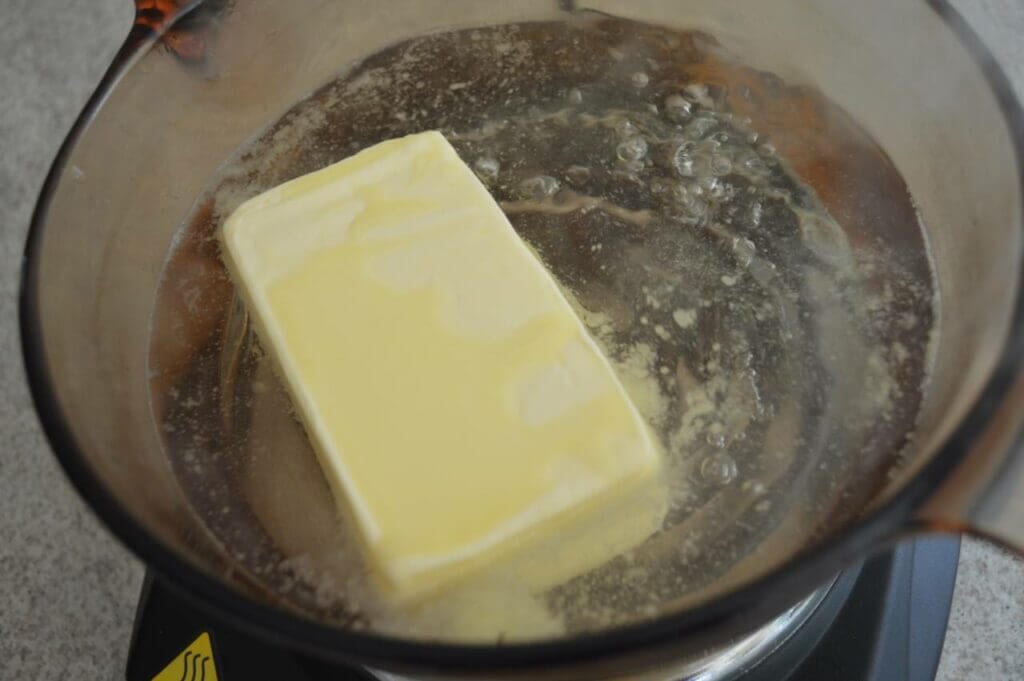 FAQS
   

What is cannabutter used for?
Cannabutter is the foundational ingredient in many of the canna-infused dishes. Using cannabutter is one of the most common and simplest ways to make cannabis edibles as it can be easily made at home. You can set the amount of cannabis you want in your food by altering the ratio of cannabutter to regular butter in the dishes.
   

What are the benefits of cannabutter?
One major benefit of cannabutter is that they provide you with a "cleaner high" as they don't' involve any carcinogens or smoke. Other than this, if you want to use cannabis for medical purposes then cannabutter is the best option. You can add cannabutter in your everyday food and eat it as a delicious medicine.  
   

Does Cannabutter have CBD?
Cannabutter is a regular unsalted butter that is infused with activated cannabis plant. Thus it has all the ingredients that are present in cannabis, including CBD, THC, terpenes, and flavonoids.  This is the reason why cannabutter is usually used by patients who want to take CBD by mouth to treat their medical issues.
   

How long to cook cannabutter in crockpot?
This method is commonly known as the "slow cooker method". In this method, you add all the ingredients in a slow cooker and cook it on low heat for about 4-6 hours. Once it is done, you strain it through a cheesecloth-covered strainer into a bowl and the rest of the procedure is same.
   

Can I freeze cannabutter?
Once you've made your cannabutter it is up to you if you use it right away, or refrigerate or freeze it for later use.  You can keep it in the refrigerator for up to 1 month. However, if you freeze it, it can be used after a 5-6 months as well.
   

Can you make cannabutter from leaves?
Yes, you can make cannabutter from clippings or trimmings of the cannabis plant. Gather the marijuana leaves, grind them in food processor, and then boil them. You can also boil the whole marijuana leaf but boiling grinded leaves will help you get more cannabinoid from the flakes.
   

Can you overcook cannabutter?
Yes, your cannabutter can be overcooked if you cook it over medium to high heat or let it boil. And if it gets overcooked, it is likely that you will burn the beneficial ingredients in it like CBD, THC etc.
   

How do you calculate the THC per serving of your cannabutter?
In a 1000 mg of bud, let's suppose 10 percent THC is present. This means that the THC content in it is about 100 mg. Mostly an edible dose is 10 mg, so the 1 gram (100 mg) of low-potency cannabis infused in the butter is enough for 10 servings. If there was 20 percent THC present in the bud, then 100 mg cannabis would produce about 20 servings.
   

How do you consume cannabutter?
Adding cannabutter in your cooking or baking is one of the easiest ways to make any food item cannabis-infused. It is an essential ingredient in canna-burgers, canna-infused sauces, canna-cakes, canna-cookies, many other cannabis dishes. You can also consume it raw by spreading it on over a toast just like you spread regular butter.
How do you defrost cannabutter?
If you're not in a hurry, then you can defrost your cannabutter by putting it in the refrigerator. It will take 6-7 hours for a pound of cannabutter to thaw. However, if you want to quickly defrost it then you can submerge it in cold water (in a tightly sealed bag of plastic). It will take about 30-60 minutes to defrost it using this method.
How long does cannabutter high last?
Mostly, the high take around 30 mins to kick in and it lasts longer (more than 2 hours) than the high you get from smoking cannabis (about 1-2 hours). It because when you consume edible cannabis, the ingredients, particularly THC, enters your system differently and is processed by your body in a unique way. So the THC you consume through edible cannabis has higher potency than the THC you consume by smoking.
Can you use cannabutter right after making it?
Yes, you can use cannabutter right after you make it. it's all up to you when you consume your cannabutter. You can use it immediately, or store it in your fridge or freezer for later use. However, even if you want to use it right away, you will have to wait until it cools down (so that the cooking water is separated).
Can you microwave cannabutter?
Yes, you can microwave cannabutter if you want to thaw it quickly. Place your butter in the microwave for 15-20 seconds and turn it after every 5-6 secs. It will be enough to soften it.  However, be very careful while doing so and make sure you don't overheat it.
How much cannabutter should I eat?
There is no specific amount that one should eat. It all depends on your desires and tolerance level, and also the potency of your cannabutter. Let's suppose you have a high potency cannabutter and a low tolerance level, then you should keep the ratio of cannabutter in your edibles low. However, the usual edible dose is 10 mg.
Can cannabutter absorb through skin?
Yes, cannabutter can be applied directly to the skin and be absorbed through its surface and interact with the cannabinoid receptors present nearby. However, the skin has a low cannabinoid absorption rate so the application should be heavy enough to cross this barrier.
medium
Recipe Card powered by

Best Sellers
Buy My Weed Online has everything you need, from premium strains to edibles and concentrates. With unbeatable prices, our online dispensary is guaranteed to be your go-to for all of your cannabis needs.
Shop now and join the thousands of satisfied customers who have already made us their top choice.