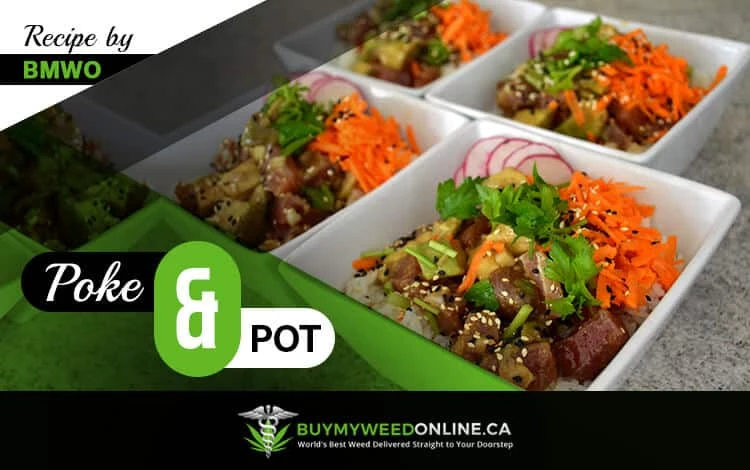 "Poke" is a Hawaiian word, which means "cut in pieces", and this dish consists of small bites of marinated fish, served with veggies, herbs, fruit and rice.
It's a light, refreshing & healthy meal, which is super easy to make, and can be customized, according to taste. It can be thought of as the Hawaiian version of a burrito bowl – a one pot meal, loaded with your favorite ingredients.
I infuse the poke using sesame oil, or sometimes coconut oil. A lot of people prefer coconut oil, or other types of cooking oil, but I personally love the taste the sesame oil adds to the food. It's my first choice, not only for this particular dish, but also other dishes like hummus, etc.
Make sure the fish you buy is uber-fresh, and of the best quality available. When preparing the poke, sometimes the mix of flavors completely disguises the taste of cannabis. So, if you want to keep its taste in your food, just drizzle a few drops of the infused oil on the top of the dish, before serving.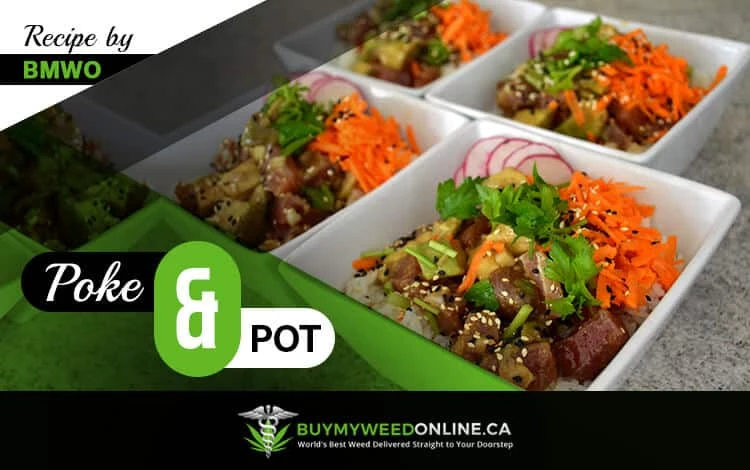 Poke and Pot Recipe
Cut avocado into cubes, and mix with rice vinegar, to coat.

Place tuna in a ceramic, or glass bowl. Add scallions, avocado, onion, cannabis-infused oil & soy sauce. Mix well, so the sauce is distributed evenly. Place in the refrigerator & marinate, for at least 20 mins.

Put the rice into four bowls, and then divide tuna between them. Garnish the bowls with shredded carrots, sliced radish & cilantro. Sprinkle sesame seeds on the top.
easy
Recipe Card powered by

Best Sellers
Buy My Weed Online has everything you need, from premium strains to edibles and concentrates. With unbeatable prices, our online dispensary is guaranteed to be your go-to for all of your cannabis needs.
Shop now and join the thousands of satisfied customers who have already made us their top choice.