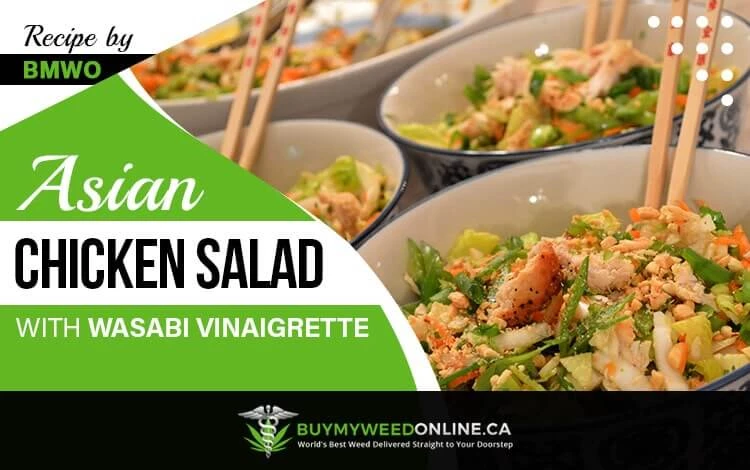 This terrific, crunchy, fresh salad is the hero of all Asian salads. With shredded chicken & vegetables, like cabbage & carrots, chopped cilantro & romaine lettuce, tossed with wasabi vinaigrette, and topped with peanuts – this salad is a great all-rounder! I love how it's so tasty & healthy, at the same time.
Wasabi dressing adds a unique flavor to this Asian chicken salad – the flavor that makes it extra special & delicious. I love the flavor of ginger & sesame in the dressing, and the hit of cannabis, of course. That taste has got me hooked, literally! I top the salad with roasted peanuts – so simple & flavorful -but you can finish it with sesame seeds, chopped wasabi peas, or anything else you crave!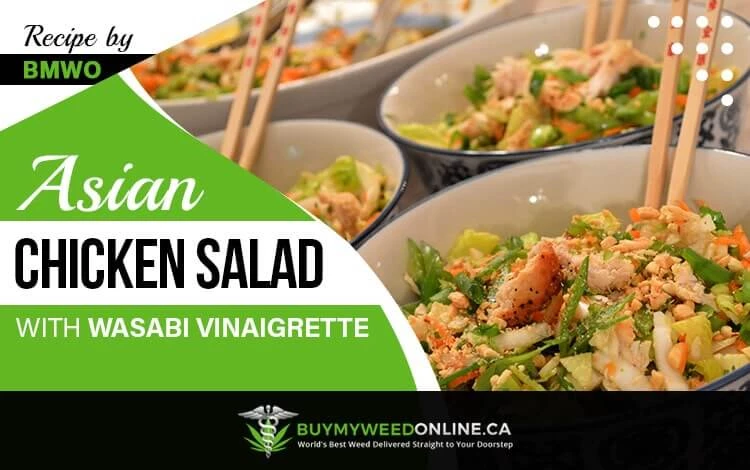 Asian Chicken Salad with Wasabi Vinaigrette
For Wasabi Viangrette
For Salad
To Prepare Wasabi Vinagrette
Take a glass jar with tight-fitting seal and put all the ingredients in it including the cannabis cooking oil.

Note: Make sure the jar is tightly sealed.

Shake vigorously, to mix the ingredients together.
To Prepare Salad
Add all remaining ingredients, except peanuts, to a large bowl.

Pour wasabi vinaigrette dressing over salad. Gently, toss to combine.

Top with roasted peanuts & serve.
easy
Recipe Card powered by

Best Sellers
Buy My Weed Online has everything you need, from premium strains to edibles and concentrates. With unbeatable prices, our online dispensary is guaranteed to be your go-to for all of your cannabis needs.
Shop now and join the thousands of satisfied customers who have already made us their top choice.