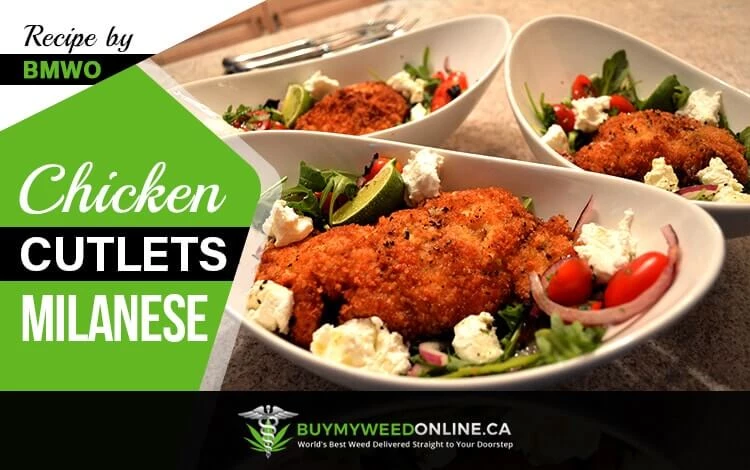 I visited Rome last year, and tried a lot of new dishes there. This particular dish, I hadn't ever even heard about!
During my stay there, the most wonderful snack I had was the chicken Milanese cutlet. It was crispy, and had an arugula topping. So simple, yet so perfect – heavenly delicious!
I make this snack at home quite often, and top it with whatever feels right. Mostly, it's tomatoes in summer, and peppery salad with arugula & herbs in the winter, taking me right back to that wonderful dish – and the time I spent there of course.
I add cannabis to the dressing, in this dish, as the temperature to make the cutlet crisp is too hot for the infused oil.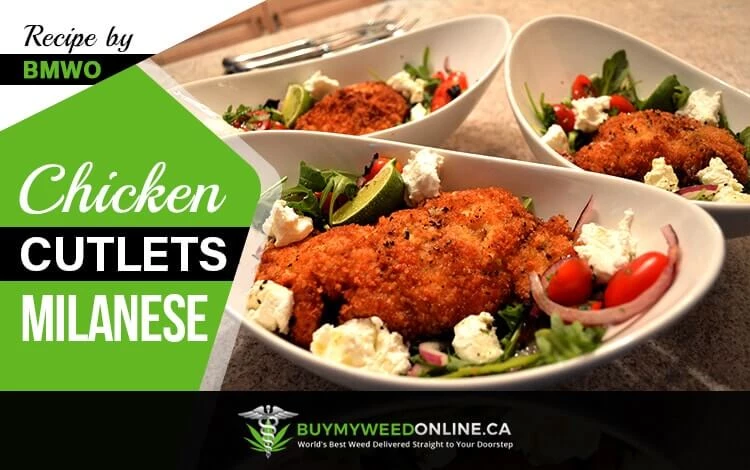 Chicken Cutlets Milanese
Place thinly pounded chicken breasts on a work surface, and sprinkle with salt & pepper.

Place breadcrumbs & whisked eggs, into two separate bowls. First, dip the chicken breasts in egg, and then in the crumbs. Make sure they are well coated. Gently shake off excess bread crumbs.

Pour oil into a skillet & preheat - it should be at least ¼ inch above the bottom of the pan. When oil is warm/hot, add 1 or 2 cutlets.

Note: Do not overcrowd the pan.

Pan fry for 4 - 6 min, or until golden brown, and then turn cutlets to cook the other side. Repeat with remaining chicken breasts.

Place on cooling racks over baking sheets covered with a clean, dry dish towel, or paper towels, to absorb excess oil.

Tip: The racks help keep the cutlets crispy.

Combine herbs, arugula, tomatoes & onions, in a medium-sized mixing bowl & toss to evenly distribute ingredients.

Divide salad into serving bowls, and place one cutlet on top. Drizzle with dressing, add chunks of goat cheese & serve with a slice of lime.
medium
Recipe Card powered by

Best Sellers
Buy My Weed Online has everything you need, from premium strains to edibles and concentrates. With unbeatable prices, our online dispensary is guaranteed to be your go-to for all of your cannabis needs.
Shop now and join the thousands of satisfied customers who have already made us their top choice.