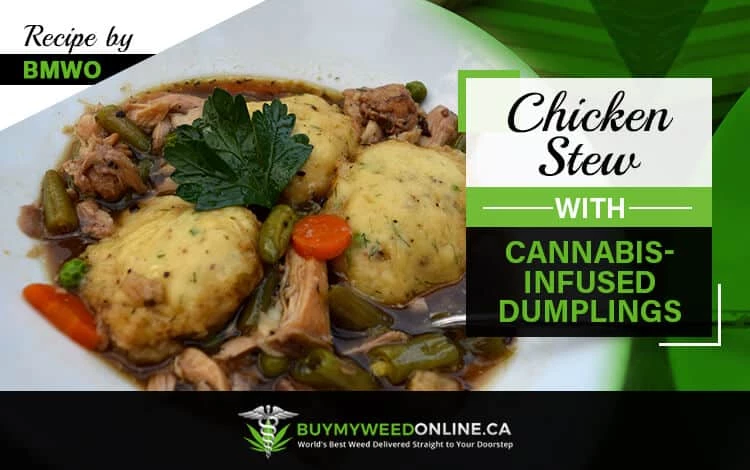 There's nothing better than a large bowl of hot chicken stew with delicious, fluffy, canna-infused dumplings, on a cold winter day or night. This chicken stew is a pure comfort food!
Since I got myself a new oven a month ago, I wanted to experiment more with my dishes. I bought an oven-safe pot for my soups, and wanted to see how it works, so I ended up making this incredibly tasty chicken stew.
While I was making the stew, I realized that it can be improvised it in some way. That's when the idea of adding canna-infused dumplings came to my mind. These fluffy dumplings added such a good flavor to the stew and made it absolutely perfect!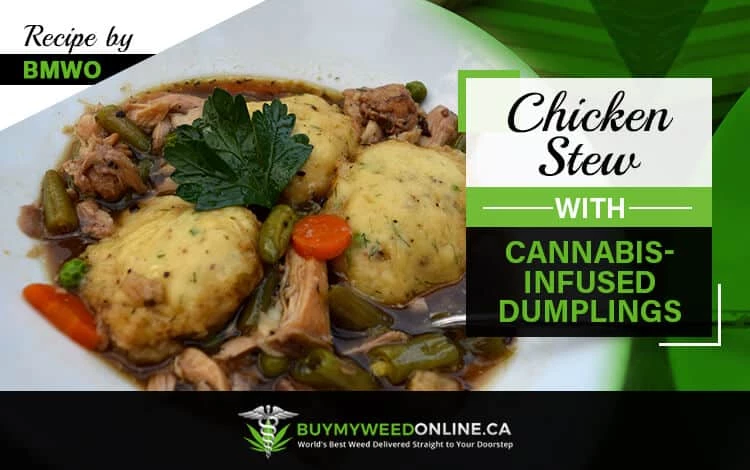 Chicken Stew with Cannabis-Infused Dumplings
For Chicken Stew
For Cannabis-Infused Dumplings
To Prepare Chicken Stew
In a large soup pot, add chicken broth, chicken thighs, carrot, celery, black pepper & salt, and cook over medium heat for 1 hr, or until chicken is done.

Note: Skim foam on top of soup, periodically.

Remove chicken from soup pot. When cool, cut meat off bones. Return meat back to pot. Add green peas & beans to the pot, and simmer for about 10 min.
To Prepare Dumplings
Add baking powder, flour, black pepper & salt, in a large bowl. Stir in milk, egg, dill, parsley & cannabutter. Mix until the dough is just combined.

Tip: Do not overwork batter. Otherwise, dumplings will become hard.

Drop batter into 8 portions, on top of stew & cover.

Cook for about 12 min, and then uncover & cook for another 10 min.

Store leftovers in an airtight container, in the refrigerator for up to 3 - 4 days.
medium
Recipe Card powered by

Best Sellers
Buy My Weed Online has everything you need, from premium strains to edibles and concentrates. With unbeatable prices, our online dispensary is guaranteed to be your go-to for all of your cannabis needs.
Shop now and join the thousands of satisfied customers who have already made us their top choice.