This dish is one I learned from my mother – sans cannabis. It has always been a family favorite and one the most-demanded dishes in our home.
The first time she made it was when I was 18 years old, and we had a huge get together at our place. I can still remember it's aroma wafting throughout our home, and I ran to the kitchen to ask her what she was cooking. It smelled just as good as it tasted.
It's been over 2 years since I've been making this at home – with cannabis – and I can proudly say that I'm an expert at it now.
This baked beauty is super-tasty and super-easy to make, and one those big event dishes that you can serve to impress your guests – many guests. I usually make it on Christmas & New Year's, and my guests always love & appreciate it. I made it last weekend, when my neighbors came over – later, we used the leftovers to make sandwiches.
The recipe I'm sharing today is basically my mom's recipe, with some slight changes made to it.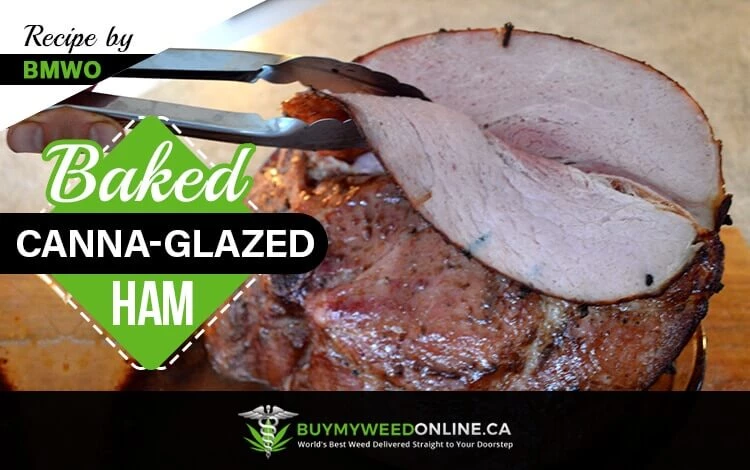 Baked Canna-Glazed Ham
1. Preheat Oven

Preheat the oven at 300°F.

2. Stud Ham with Cloves and Bake in Oven

Stud ham with whole cloves, and bake in the oven, while preparing glaze.

3. Combine Canna-oil with Other Ingredients in a Saucepan

In a medium saucepan, combine cannabis-infused oil, mustard, brown sugar, cloves, apple cider & salt. Bring up to a simmer on low heat, stirring frequently. Allow the mixture to cool for about 20 - 30 mins.

Note: The longer you cook it, the thicker the glaze will be.

4. Brush Ham with Glaze Generously

Generously, brush the ham with glaze.

5. Bake for a Couple of Hours

Bake for 1 - 2 hrs, basting frequently.

6. Allow Canna-Glazed Ham to Rest

Allow it to rest for 20 min, before slicing.
Serving Size 1/6
Servings 6
---
Amount Per Serving

Calories 350kcal

Calories from Fat 150kcal

% Daily Value *

Total Fat 17g

27

%

Saturated Fat 5g

25

%

Cholesterol 75mg

25

%

Sodium 1500mg

63

%

Potassium 500mg

15

%

Total Carbohydrate 15g

5

%

Dietary Fiber 0.5g

2

%

Sugars 14g

Protein 25g

50

%
---
Vitamin C

10

mg

Calcium

20

mg

Iron

1.2

mg

Thiamin

0.6

mg

Riboflavin

0.2

mg

Niacin

8

mg

Vitamin B6

0.4

mg

Folate

5

mcg

Vitamin B12

0.5

mcg

Pantothenic Acid

0.8

mg

Phosphorus

200

mg

Magnesium

20

mmol

Zinc

2

mcg

Selenium

20

mg

Copper

0.1

mg
* Percent Daily Values are based on a 2,000 calorie diet. Your daily value may be higher or lower depending on your calorie needs.
medium
Recipe Card powered by

Best Sellers
Buy My Weed Online has everything you need, from premium strains to edibles and concentrates. With unbeatable prices, our online dispensary is guaranteed to be your go-to for all of your cannabis needs.
Shop now and join the thousands of satisfied customers who have already made us their top choice.