Who doesn't like baked delights?! Well, I absolutely love them! Baking cakes and muffins is my favorite part of the weekend. Also, I have a thing for desserts – after dinner, they are a MUST in our home.
I've recently started experimenting with phyllo dough. It's an amazing ingredient you can use for baked delights, and they become even more delicious, in my opinion. I read about it online, and I'm glad I found it. It has made baking so much easier for me, because it saves a lot of time, and makes for a beautiful presentation.
Let me tell you about this dish, I recently tried, which was absolutely delicious! It's called baked brie – you may have heard of it before. Well, in case you haven't, it is a flaky, warm, mouth-watering, baked delight. Also, it's definitely a must-try for the canna-loving people out there. So, I'm sharing with you my go-to baked brie recipe.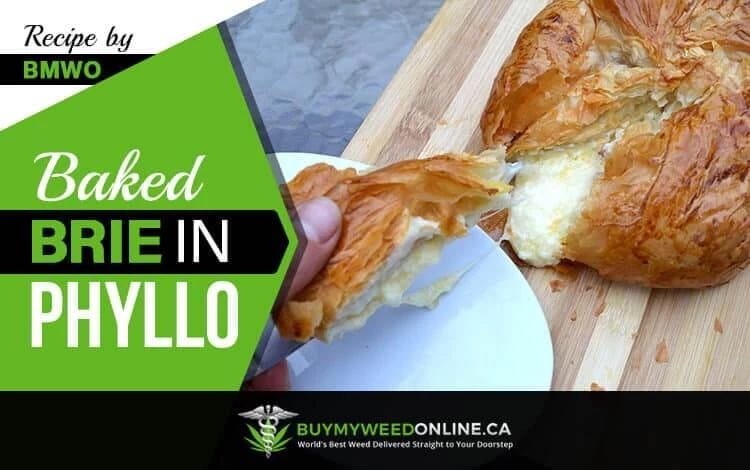 Baked Brie in Phyllo
Pre-heat the oven at 340 °F

Place the phyllo dough sheets on work surface. Cover them with slightly wet paper towel.

Melt the infused butter & salted butter on low heat, on the stove or microwave. Set aside, when melted.

Place the dough sheets, one at a time, on a baking tray & brush each with melted butter.

Once that is done, place brie on top of the phyllo sheets. Then wrap the brie in the dough, bringing edges up to the top. Brush again with melted butter.

Tip: Gather the edges of the phyllo in the center, on the top, and twist, to make a lovely pattern. Gently trim excess dough, as necessary with a small, sharp knife or with kitchen scissors. Just ensure there is enough dough to completely encase the cheese.

Tip: For an easy, clean presentation, wrap brie like a present & flip to keep seams on bottom.

Take the beaten egg and brush it on the dough.

Bake for about 35 mins (until the crust turns golden-brown).

Allow to settle for about 20 mins. And your dish is ready!
Serving Size 1/4
Servings 4
---
Amount Per Serving

Calories 450kcal

Calories from Fat 300kcal

% Daily Value *

Total Fat 33g

51

%

Saturated Fat 20g

100

%

Cholesterol 95mg

32

%

Sodium 400mg

17

%

Potassium 100mg

3

%

Total Carbohydrate 20g

7

%

Dietary Fiber 1g

4

%

Sugars 2g

Protein 15g

30

%
---
Vitamin A

700

IU

Calcium

150

mg

Iron

1

mg

Vitamin D

0.5

IU

Vitamin E

1

IU

Vitamin K

3

mcg

Thiamin

0.1

mg

Riboflavin

0.2

mg

Niacin

1

mg

Vitamin B6

0.1

mg

Folate

10

mcg

Vitamin B12

1

mcg

Pantothenic Acid

0.5

mg

Phosphorus

150

mg

Magnesium

10

mmol

Zinc

2

mcg

Selenium

5

mg

Copper

0.1

mg

Manganese

0.1

mg
* Percent Daily Values are based on a 2,000 calorie diet. Your daily value may be higher or lower depending on your calorie needs.
medium
Recipe Card powered by

Best Sellers
Buy My Weed Online has everything you need, from premium strains to edibles and concentrates. With unbeatable prices, our online dispensary is guaranteed to be your go-to for all of your cannabis needs.
Shop now and join the thousands of satisfied customers who have already made us their top choice.