Chicken Stew with Cannabis-Infused Dumplings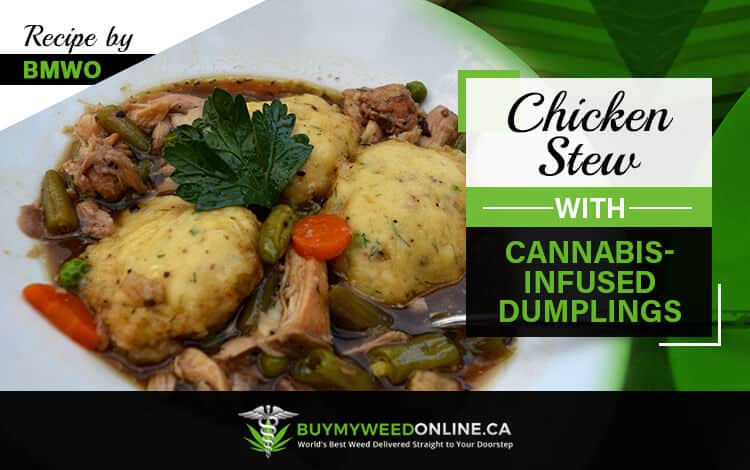 Time: 2 hours
Print Recipe
There's nothing better than a large bowl of hot chicken stew with delicious, fluffy, canna-infused dumplings, on a cold winter day or night. This chicken stew is a pure comfort food!
Since I got myself a new oven a month ago, I wanted to experiment more with my dishes. I bought an oven-safe pot for my soups, and wanted to see how it works, so I ended up making this incredibly tasty chicken stew.
While I was making the stew, I realized that it can be improvised it in some way. That's when the idea of adding canna-infused dumplings came to my mind. These fluffy dumplings added such a good flavor to the stew and made it absolutely perfect!
For Chicken Stew
6

chicken thighs with skin removed

6

cups

chicken broth

1

sliced celery stalk

ground salt and pepper, use as per your preference

¼

lb.

trimmed green beans cut into pieces

2/3

cup

fresh or frozen green peas
For Cannabis-Infused Dumplings
2

tsp

baking powder

1½

cups

all-purpose flour

2/3

cup

milk

¼

tsp

black pepper

½

tsp

salt

1

egg

4

tsp

cannabutter

1

tbsp

fresh dill (finely chopped)

1

tbsp

fresh Italian parsley (finely chopped)
To Prepare Chicken Stew
In a large soup pot, add chicken broth, chicken thighs, carrot, celery, black pepper & salt, and cook over medium heat for 1 hr, or until chicken is done.

Note: Skim foam on top of soup, periodically.

Remove chicken from soup pot. When cool, cut meat off bones. Return meat back to pot. Add green peas & beans to the pot, and simmer for about 10 min.
To Prepare Dumplings
Add baking powder, flour, black pepper & salt, in a large bowl. Stir in milk, egg, dill, parsley & cannabutter. Mix until the dough is just combined.Tip: Do not overwork batter. Otherwise, dumplings will become hard.

Drop batter into 8 portions, on top of stew & cover.

Cook for about 12 min, and then uncover & cook for another 10 min.

Store leftovers in an airtight container, in the refrigerator for up to 3 - 4 days.