Cannabis-infused Loaded Potato Nachos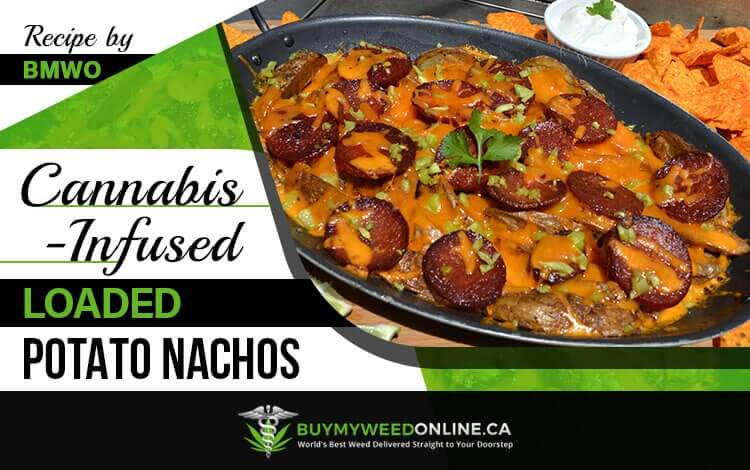 Time: 1 hour
Print Recipe
Who doesn't love nachos? Such a silly question! How can anybody NOT love nachos?!
I remember when I tried nachos for the first time in a street café, and since then I've been a huge nachos fan. Covered in cheese, with chopped scallions and sour cream – Cannabis-infused fingerling nachos have got to be my favourite.
The first time I ate cannabis-infused loaded potato nachos was at my mom's place. They were finger-licking good and I couldn't resist asking mom how she made them. Although her recipe was a bit different from what I'm sharing here today, this one's even better than the one I ate at her place.
If you love getting into the kitchen and trying out new dishes, this one is a must-try!
So, without any further delay, here's the recipe of the super-delicious cannabis-infused loaded potato nachos:

1

tbsp

ground cumin

2

tbsp

cannaoil

1 - 2

tbsp

hot pepper, chopped

2

tbsp

olive oil

salt and pepper, use as per your preference

2

cups

sharp cheddar, shredded

6

medium

potatoes, washed

100

grams

chorizo sausage, sliced
Preheat oven to 375 degrees F.

Wash potatoes & slice into the shape of thick steak fries.

In a large bowl, toss potatoes with salt, pepper, cumin & cannaoil, to evenly coat.

Arrange potatoes on a baking sheet lined with parchment or a baking mat, in an even, flat layer.

Roast until potatoes are knife tender - about 35 - 45 minutes - turning each one halfway through. Remove from roasting pan and cool slightly, while preparing sausage.

Prepare a medium-sized skillet with canna-olive oil on medium heat, and brown chorizo sausage slices - about 8 - 10 minutes - turning halfway. Remove from stove and let it cool.

Arrange potatoes in an ovenproof dish or skillet, sprinkle with shredded cheddar, and a layer of chorizo sausage slices. Drizzle some cannaoil and chopped peppers on top.

Place the dish in the oven at 375 degrees F and let it cook until the cheese melts - about 5-7 minutes.

Serve it with tortillas or chips.