Butternut Squash Soup with Ginger Cream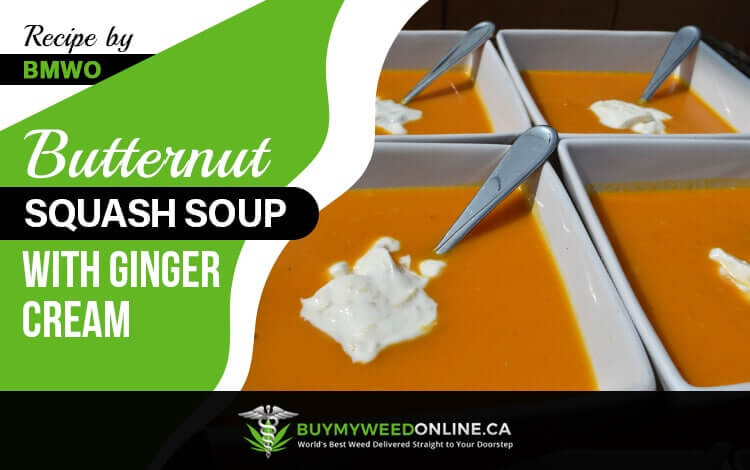 Time: 55 Mins
Print Recipe
Cooking and eating cannabis-infused foods is one of my favorite things to do. The pleasure they offer is unexplainable. For a recent gathering, I served this medicated butternut squash soup to my guests, followed by a weedy dinner, and ended the meal with pot brownies.
This squash soup is the perfect savory food to start your meal with. It'll get you high, and have no added sugar, so you can save some space for dessert.
Also, it's my go-to food for a relaxing, cosy, winter night, ending your day.
In case you all are also craving it in this cosy fall, and want to make it, here's the recipe:
For Butternut Squash Soup
4

tbsp

cannabutter

½

peeled and sliced onion

2

cups

peeled butternut squash cut into half inch cubes

1

cup

peeled sweet potato cut into half inch cubes

1

cup

peeled carrots cut into half inch cubes

1

tsp

kosher salt

½

tsp

ground black pepper

4

cups

vegetable or chicken broth
For Ginger Cream
1

tsp

minced ginger

4

tbsp

sour cream

pinch of salt
Place a large saucepan over medium-low heat, and melt cannabis butter in it. Add onion, and cook for 5 - 6 min.

Add sweet potato, squash & carrot, in the saucepan, and cook for another 5 min.

Add broth, pepper & sea salt, and bring to boil.

Reduce heat & let cook for about 30 min, until vegetables are soft. Remove from heat.

Mix ginger, salt & sour cream, in a bowl, and set aside.

When soup cools down a bit, purée it with an immersion blender, until smooth. Pour soup back into the saucepan, and heat through.

Pour soup in four bowls, and top with a spoonful of ginger cream. Enjoy!