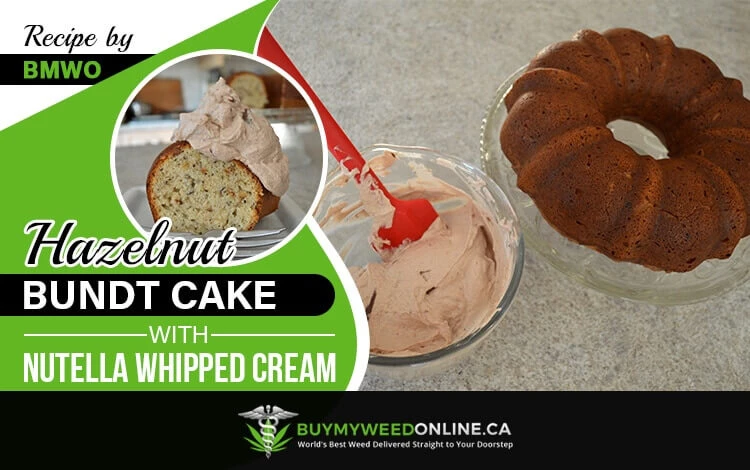 This velvety cake & creamy topping are perfect for a holiday party, or for a delightful treat for someone special.
I love baking, and this cake is the one I enjoy making the most. When you get in the kitchen and start making it, you'll get to know what I'm talking about. As much as I enjoy making it, I enjoy eating it as well – it literally makes my tummy smile!
I like my cakes super rich, so I add a good amount of hazelnuts in the batter, and top with a cloud of whipped cream. However, if you don't like your cake served so richly, you can replace some whipped cream with Nutella swirl, and use almonds, in place of hazelnuts. Almond butter can also be used as a substitute for Nutella.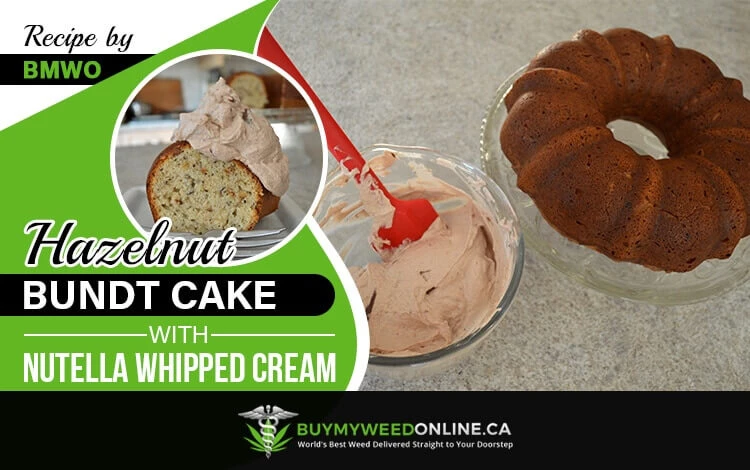 Hazelnut Bundt Cake with Nutella Whipped Cream
For Hazelnut Bundt Cake
For Nutella Whipped Cream
To Prepare Hazelnut Bundt Cake
Preheat the oven at 350°F. Spray the Bundt pan with the baking spray and then sprinkle with breadcrumbs. Set aside.

Take a large bowl and combine sugar and canna-butter in it. Keep beating at medium speed until the mixture is well blended (will take 2-3 mins). Then add eggs in the mixture, one at a time, and beat well after each addition.

Add sour cream and vanilla in the mixture. Keep beating until the mixture is well blended.

Add flour gently into a measuring cup using a spoon and then level it with a knife.

Combine the ground hazelnuts, flour, salt, baking soda and baking powder in a medium bowl. Stir with a whisk.

Add the flour mixture in the sugar mixture and keep stirring until combined.

Pour batter into prepared pan and bake for about 55 mins. Check with a cake tester if it is completely baked.

Let it cool in the pan for 15 mins and then remove it from the pan. Cool it completely on the wire rack.
To Prepare Nutella Whipped Cream
Pour the heavy cream in the mixer bowl. Add sugar and beat until combined. The heavy cream will double in volume.

Keep the mixer on low and add Nutella. Mix slowly and let it swirl through the cream to get the desired effect.

Top the slices of cake with whipped cream. Enjoy!
medium
Recipe Card powered by

Best Sellers
Buy My Weed Online has everything you need, from premium strains to edibles and concentrates. With unbeatable prices, our online dispensary is guaranteed to be your go-to for all of your cannabis needs.
Shop now and join the thousands of satisfied customers who have already made us their top choice.