Pot Brownie Recipe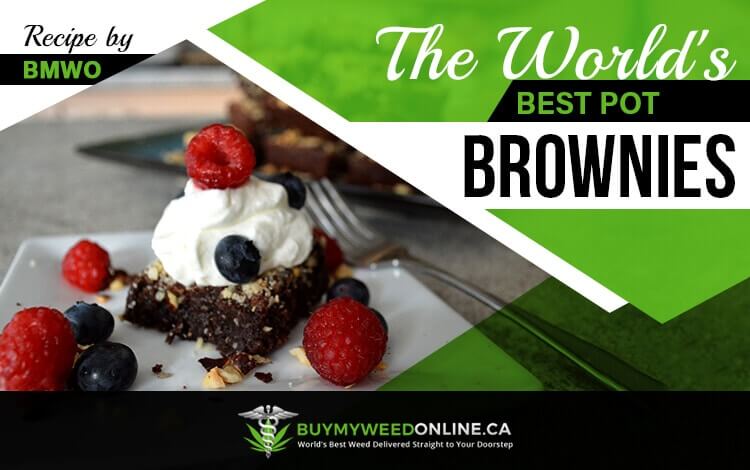 Time: 50 Mins
Print Recipe
Whenever I hand a homemade brownie to someone, the first question I get from them is, "Does it have weed in there?" And the answer is, obviously, a big YES! There's a reason why they're called "The World's Best" Pot Brownies, and this is the reason…
The cannabis-laden, chocolatey treats are simply to die for! Pot brownies are everyone's first foray, when it comes to canna-infused desserts.
However, the recipe for this brownie is a bit tricky. If they are prepared incorrectly, then they may end up with a bitter, raw, marijuana taste. However, if done right, then there's no dessert as delicious as this one.
To make the world's best pot brownie, I make a bit more of a luxe version of this recipe, recommended by my friend. It has raspberries, blueberries, hazelnuts & almond extract, which are usually not used in simple pot brownies.
Some people, who like more fudgy brownies, usually use chocolate ganache, but I personally prefer balanced treats, so I use cocoa powder instead. However, it's completely up to you which one you use. Try combining both a ganache & cocoa powder, to make your brownies ultra-fudgy.
So here's the world's best pot brownie recipe:
½

cup

cannabutter

¼

cup

unsalted butter

2

cups

white sugar

4

oz.

chocolate squares (unsweetened)

¼

cup

cocoa powder (unsweetened)

2

tsp

vanilla

3

eggs

1

cup

all-purpose flour

¼

tsp

salt

½

tsp

almond extract

2/3

cup

chopped hazelnut

2

cups

whipped cream (sweetened)

1

cup

raspberries

1

cup

blueberries

2/3

cup

chopped white chocolate
Preheat oven to 340 °F, and place parchment in bottom of a 9 x 13 inch pan, greasing with butter.

In a microwave-resistant bowl, melt canna-butter, unsalted butter & chocolates, on low heat.

Add sugar & stir. Add eggs, vanilla extract, almond extract & cocoa powder, combining well.

Stir salt into flour, and add to brownie batter. Stir, just to combine.

Spread batter evenly in parchment-covered, greased pan, and sprinkle nuts on top.

Bake for about 30 - 35 min, until center is set.

Cool down to room temperature. Serve with whipped cream & fresh fruits - raspberries & blueberries. Enjoy!