Seasonal Cannabis-Infused Asparagus-Dill Soup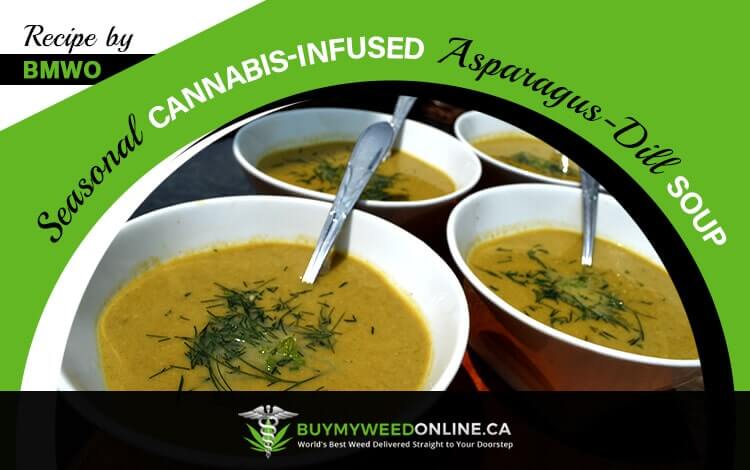 Time: 45 Mins
Print Recipe
The month of the year I cannot wait for the most is March. When I enter the store and see beautiful, bright green asparagus displayed - I think to myself, "Like, YES! My favorite spring vegetable is back!"
As soon as it's here, I fill my menu with easy asparagus dishes, like asparagus salads, baked lemon chicken with asparagus, asparagus tart, and, of course, this delicious cannabis-infused asparagus-dill soup.
This simple & tasty soup will be ready in about 30 minutes, and is a perfect light meal to enjoy, on a lovely, spring day. You can also make it purely vegetarian, by using vegetable broth, instead of chicken broth.
This velvety, creamy soup is made without cream, but some cannabis instead. For this soup, I infuse olive oil with Sativa strains. These strains, in general, uplift your mood. I know a lot of people, who are getting relief from their depression, using good sativa strains like Jack Herer.
1

tbsp

olive oil

1

lb.

asparagus cut into pieces

1

tsp

coarse salt

2

tbsp

cannaoil

1

peeled and chopped yellow onion

3

peeled and minced garlic cloves

3½

cups

low sodium chicken broth or vegetable broth

chopped fresh dill

ground black pepper
Preheat oven at 425 °F. Place pieces of asparagus, on a baking sheet, and drizzle with olive oil. Sprinkle with salt & toss.

Roast asparagus for 10 min. Set aside.

Heat cannaoil, in a large sauce pot. Add onion, and cook, until tender - about 8 - 10 min. Add garlic, and saute for another 2 - 3 min.

Add asparagus & broth. Simmer for 10 min.

In a food processor or blender, purée soup. Pour the soup in a sauce pan, adding salt & black pepper, to taste.

Divide soup in 4 bowls, and sprinkle chopped dill. Serve hot.