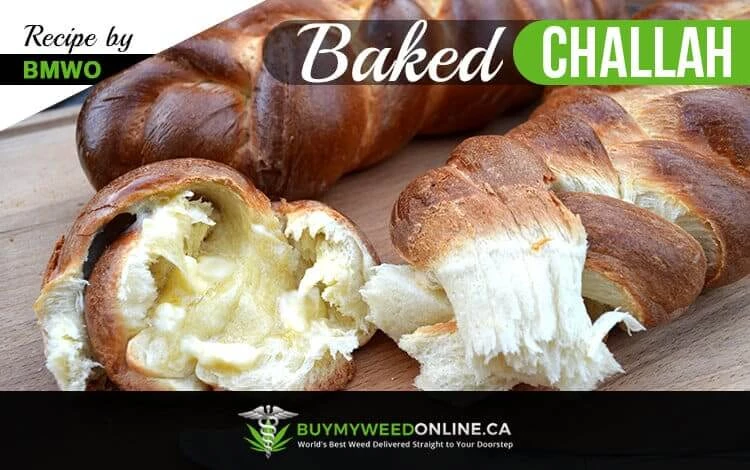 This tasty, canna-infused traditional Jewish egg bread called "challah" is eaten on New Years and the Sabbath.
Challah is slightly sweet and is made in a braided shape, as a part of tradition. However, it is available in a round loaf, as well.
Challah is a very easy bread to make, and its dough is enriched with oil and eggs, which is the main secret behind its great taste.
Here's the recipe of this super-delicious braided egg bread: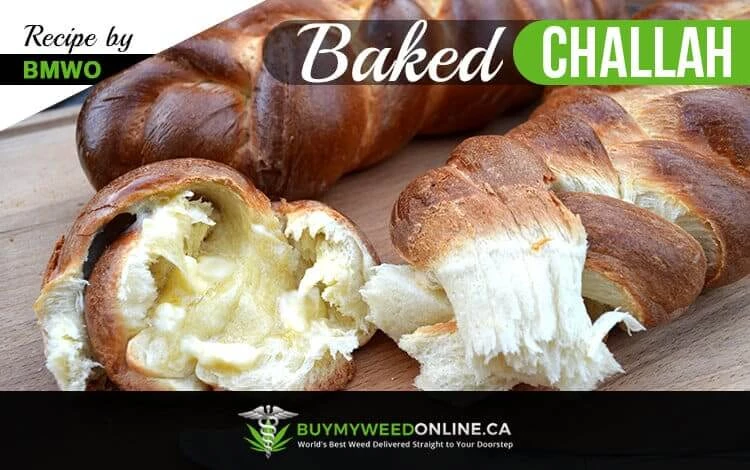 Baked Challah
Pour warm water into a large bowl. Dissolve yeast & sugar in warm water, allowing yeast to activate for 10 min, or until foamy.

Add 3 cups of flour into the mixture, and beat until mixture is smooth. Add remaining 3 cups of flour into the mixture, 1/2 cup at a time, and make sure the dough becomes firm.

Note: If dough doesn't become firm, add some more flour, a small amount at a time.

Lightly sprinkle flour on your work surface. Knead dough on work surface, until it is smooth - about 7 - 8 min. Form into a ball.

Coat the bowl with canola oil, and put the dough inside. Brush oil on the top of the dough & cover the bowl with a clean, dry, linen dish towel. Let dough rise for 1 hr, in a warm location without a draft. The dough will double in size.

Pull dough out onto work surface, and press it down.

Divide dough in half, and then each half into thirds. Roll each piece of dough into a long dowel shape, to the length of about 16 inches.

Take 2 baking sheets, and grease them. Place 3 rolled pieces of dough on the sheet, Pressing them together at the top & then braiding them. Tuck the ends under the braid, at the top & bottom. Repeat these steps for the other 3 pieces of dough, on the other baking sheet. Cover each with clean, dry, linen dish towels for 1 hr again, in a warm location with no draft, to let them rise.

Add 2 tsp cold water to a small bowl with 1 egg & 1 egg yolk, beating well. Lightly brush the mixture over the braids.

Preheat the oven to 340°F. Bake loaves for 30 - 35 min, and until they turn golden brown.

Cool each loaf on a wire rack and serve, either by tearing pieces away from the braid or slicing with a serrated knife.
medium
Recipe Card powered by

Best Sellers
Buy My Weed Online has everything you need, from premium strains to edibles and concentrates. With unbeatable prices, our online dispensary is guaranteed to be your go-to for all of your cannabis needs.
Shop now and join the thousands of satisfied customers who have already made us their top choice.