Peanut Butter Quick Bread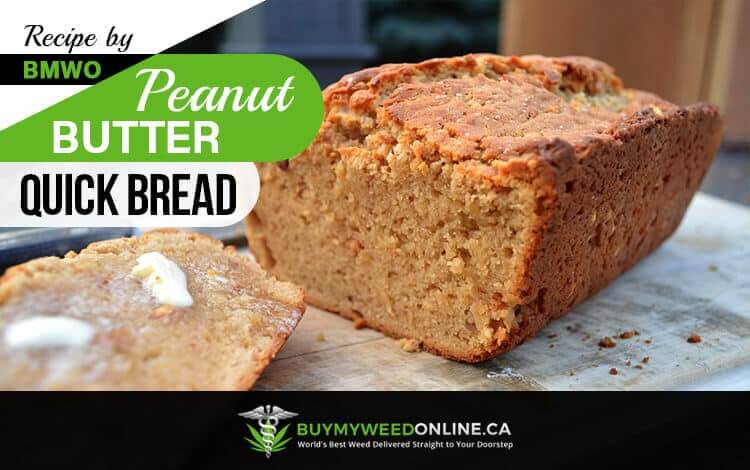 Time: 2 hours
Print Recipe
Quick breads are so easy to make, and they taste absolutely delicious.
Being a cannabis-cook, I just couldn't skip this classic recipe. The best thing about this bread is that they are easily made using ingredients already present in your home. So, you don't have to run to the supermarket before deciding to bake one up!
This peanut butter quick bread is my favorite flavor of all. Spongy & moist, this bread boasts an amazing peanut flavor. It's up to you which peanut butter you use, either smooth or crunchy, but I personally love chunky peanut butter because it gives the bread a better texture because of the chopped peanuts.
Just like with peanut butter, it is up to you which cannabutter you use. I prefer using indica strains for this recipe. However, you can use a strain of your choice to make the cannabis butter, for this recipe.
Let's move on to the recipe now:
2

cups

flour

1

tbsp

baking powder

¼

tsp

salt

4

tbsp

cannabutter

½

cup

ground sugar

¼

cup

brown sugar

1

cup

chunky peanut butter

1

egg

2

tsp

vanilla extract

1

cup

milk
Preheat the oven at 340 F.

Take a 9 x 5 x 3 inches loaf pan and coat it with butter.

Combine flour, salt & baking powder, in a small mixing bowl.

Take a mixing bowl and beat sugars & cannabutter, on a low speed. Keep beating, until fluffy.

Add peanut butter, vanilla extract & egg, and beat again.

In parts, add the flour mixture, combining with the peanut butter mixture. Keep beating, until the batter turns thick.

Add milk, and beat on a low speed, until the batter becomes smooth.

Add batter to the buttered loaf pan, and spread it evenly. Bake for about 50 min, or until the center of bread springs back, when you press it with a finger.

Cool the bread in pan for 15 mins. Carefully, remove from loaf pan, by running a small, sharp knife around edges & turning out the loaf. Place on a wire cooling rack to completely cool, before serving.