Alcohol Tincture Recipe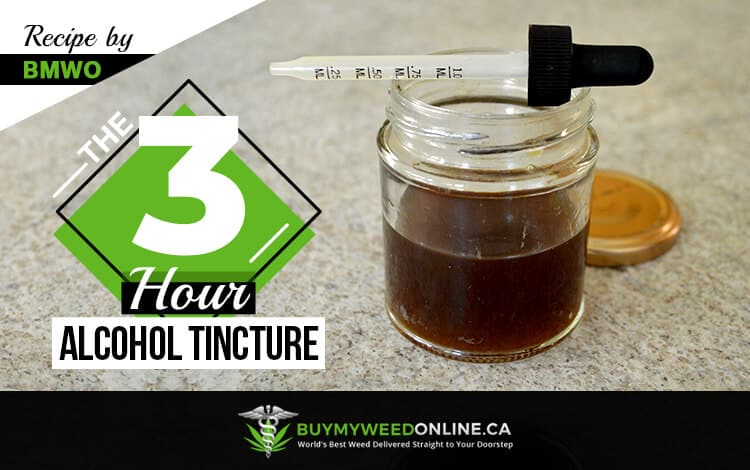 Time: 3 hours
Print Recipe
Alcohol tinctures are usually used as a convenient medium to consume medical herbs, as alcohol facilitates the herbal compounds to be absorbed into the bloodstream quickly.
For this reason, many people prefer taking cannabis in the form of alcohol tinctures. It is easier to make and dose, as compared to cannabutter & canna-oil based edibles. Also, you can feel the effects more quickly by consuming cannabis via tinctures, as compared to consuming through canna-infused edibles.
The longer you let your tincture sit, the stronger it will become. At the same time, however, it will become more unpalatable, as more chlorophyll is released with time. There are many different recipes out there that call for the tincture to sit anywhere from a few minutes, to a few weeks, to a few months. This recipe prepares alcohol tincture in 3 hours. However, you can experiment with the infusion to find the perfect balance of time, chlorophyll, and potency you are comfortable with.
The most important part of making alcohol tincture is choosing the right strain of cannabis. This choice will affect the potency, and the medical properties of the tincture.
For example, if you choose an Indica strain, your tincture will help you with body pain, insomnia, depression & nausea. You can also choose a CBD strain, to make a non-psychoactive, purely medicinal tincture. CBD tinctures made at home are usually much more beneficial than those you find at dispensaries.
7

grams

decarbed, finely ground cannabis

4

oz.

high-proof alcohol (recommended: Everclear)
In a mason jar, combine alcohol & cannabis together.

Close the lid of the jar, and vigorously shake for a minute.

Let the mixture sit for 1 hr, at room temperature, in a dark place.

Shake mason jar again for 1 min, and let sit for 1 hr.

Repeat the process once again, so 3 hrs are completed.

Strain tincture through a fine-mesh strainer, or a cheesecloth-lined strainer, and pour into a 4-ounce eye dropper bottle, or a small jar using a dropper for dosing.

Store tincture in cool & dark place.